Meet Dr. Mark Higginbottom
Mark Higginbottom, DMD
As an orthodontist, I believe in the amazing benefits of a beautiful smile, and as your orthodontist, I want to help you achieve a smile that gives you the confidence and happiness you deserve. I was born and raised right here in Easton, so I feel a great connection to the wonderful community I serve, and consider all of my patients to be like family. From my fellow dentists and peers, to my dedicated office staff, to my wonderful patients who put a smile on my face, every day I am reminded why I chose to become an orthodontist!
Education and Continuing Education
I received a BA in biology from Syracuse University, and graduated magna cum laude with honors from Phi Beta Kappa — the nation's oldest and most prestigious academic honor society. My dental school education occurred at the University of Pennsylvania, where I received my Doctorate of Dental Medicine.
I went to the University of Maryland's Baltimore College of Dental Surgery to obtain my certificate in orthodontics. It was also at that institution that I was recruited to teach in the Department of Orthodontics as an assistant clinical professor of orthodontics. I have been in the exclusive practice of orthodontics for almost 40 years.
I strongly believe in continuing education as a way to stay current on the latest products and treatment techniques in orthodontics. I am always interested in attending continuing education courses, especially those that will allow me to learn more about the upcoming topics and trends in orthodontics. I regularly participate in continuing education by being a member of several orthodontic and dental associations, including:
American Association of Orthodontists
Middle Atlantic Society of Orthodontists
Maryland State Society of Orthodontists
American Dental Association
Eastern Shore Dental Society
I always have something to smile about!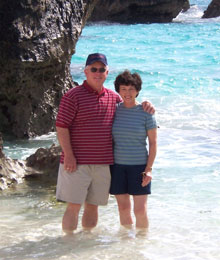 I value the time I spend with my family, so when I am away from the practice, you can often find me in the company of my loved ones. My wife Rhonda and I have three grown sons, three daughters-in-law, three precious granddaughters, and three wonderful grandsons, I am very proud of my family, and welcoming new family members into my life is such a joy!
In addition to spending time with my family, I enjoy music, traveling, and raising thoroughbred horses. Music, especially the piano, organ, and singing ensembles, has always played an important role in my life, and I actively participate in a variety of music programs at my church and within the Easton community. I also enjoy spending time with my grandchildren and participating in their school activities.