Meet Dr. Kyle Higginbottom
Kyle Higginbottom, DDS
Orthodontics means the world to me, and has been a part of my life for as long as I can remember. As a child, I got to see the impact orthodontics had on my father's patients: It was life changing!
Now, as an orthodontist myself, I enjoy the uniqueness of my patients, both in their treatment needs and personalities. No two days are ever the same! I love the fact that we can make a difference in peoples' lives, how they look at themselves, and how they feel about themselves. Being able to see and interact with so many wonderful people in the community on a daily basis is one of the best perks of the job!
Education and Continuing Education
I graduated from Easton High School and began my undergraduate education at Washington College in Chestertown. I received a Bachelor of Science in biology and graduated magna cum laude with Beta Beta Beta honors. I also received the Department of Biology Professional Award. I continued on to the University of Maryland, Baltimore College of Dental Surgery, where I earned my Doctorate of Dental Surgery and graduated magna cum laude. I stayed there for my residency in orthodontics, and was awarded my certificate of orthodontics and a master's degree in oral biology.
During my residency, I had the opportunity to be trained in various treatment methodologies, including conventional braces for children and adults, orthognathic surgeries, the Damon Smile®, Invisalign®, and accelerated orthodontics, and I served on the Cleft Lip and Palate teams at Johns Hopkins University and Kernan Hospital.
I am very interested in new and developing technology, whether it be in orthodontics or just everyday life. It is always important to stay current on the latest technology and treatment modalities in orthodontics so our patients can receive the best care possible. The majority of my continuing education is completed through my professional affiliations:
American Association of Orthodontists
Middle Atlantic Society of Orthodontists
Maryland State Society of Orthodontists
American Dental Association
Eastern Shore Dental Society
What makes me smile?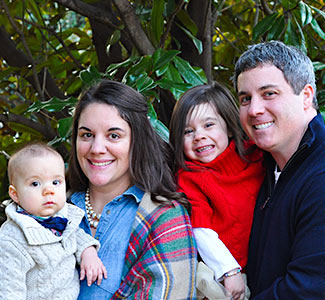 I met my wife, Lindsey Faulkner Higginbottom, in grade school. We started dating in high school and got married in the summer of 2010. She is an administrative intern for Talbot County at Chapel District Elementary School in Cordova. Our daughter, Aubrey MacRae, was born in 2016 and our son, Miles Tilghman, was born in 2019. We have enjoyed being parents and looking at life through the eyes of little children!
Besides spending time with my loving wife and kids, I love to be outdoors and on the water. I got into photography while I was in dental school and I love getting out in nature and photographing all the beauty that nature provides. In the summers, I enjoy sailing and fishing, and in the fall and springtime I love to ride horses and hunt. There is nothing more peaceful then sitting in the woods in a tree stand and taking in nature's beauty. I also love to watch sports, play tennis and golf, run, and bike.